Waltham Forest Council press release
Over 4,000 new trees are being planted across Waltham Forest to mark this year's National Tree Week, Saturday 28 November to Sunday 6 December, including 14 Japanese cherry trees (Sakura in Japanese) to celebrate Japan's relationship with the UK.

Of the new trees, 3,600 will be whips – young tree seedlings that have been specially selected to grow out – and the remaining 500 will be standard trees to bring extra life to our streets, parks, and neighbourhoods.

Planting trees and ensuring that public spaces have a variety of plant, shrub, and tree species helps to offset harmful emissions and provides a boost to mental health, as well as making shared areas more pleasant for everyone to enjoy.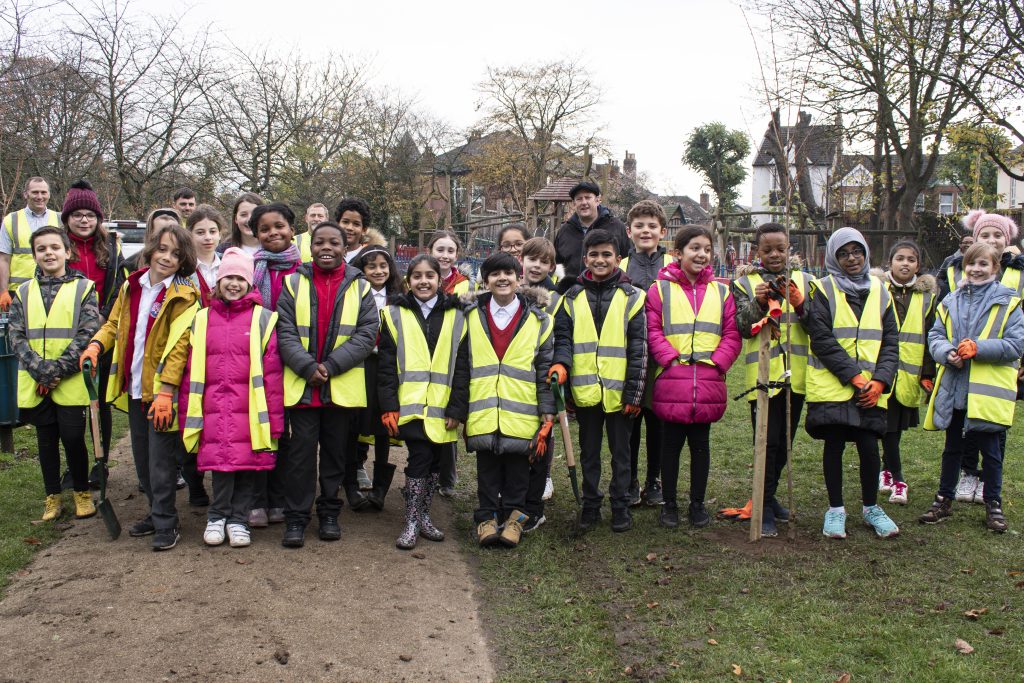 On Friday 27 November students from Davies Lane Primary School joined the Deputy Leader of Waltham Forest Council, Cllr Clyde Loakes, to plant an avenue of Japanese cherry trees at Henry Reynolds Gardens, Leytonstone, to get National Tree Week in Waltham Forest underway.

Cllr Loakes said: "It's been a pleasure to meet the students here today to plant the cherry trees – when spring comes around they will blossom and bring colour and joy to visitors at the park. My thanks to everyone involved in the project who has helped secure these beautiful trees.

"We know how important trees are as we work to combat the Climate Emergency. They help to reduce harmful emissions in our air, provide a habitat for bird and animal species, and make our parks and open spaces more attractive.

"I know that this year we haven't been able to host public events as we have before. We have all had to make changes and sacrifices during the coronavirus pandemic. However, I would like to put on record my thanks to the council staff, contractors, and volunteers for all the work they have done to support the community."

The cherry-planting project will be a legacy from the Japan-UK Season of Culture 2019-2020, which aims to showcase Japan's multifaceted attractions in the UK. The Season provides the opportunity to learn more about Japan, its culture and people through hundreds of events ranging from arts, sports, cuisine and performance. Once the Season ends, members of the public will start to witness the 1000s of cherry trees blossom in spring 2020 and beyond.

The avenue of cherry trees at Henry Reynolds Gardens consist of three species, specially chosen for their variation in colour, timing, and historical significance. For example, the 'Taihaku' variety is a large, single white blossom variety, which became extinct in Japan but was reintroduced to its homeland by a British grower, Collingwood Ingram, in 1932.

The Sakura Cherry Trees will be distributed to over 400 schools and 160 sites in all four countries of the UK from St Ives to Aberdeen to Londonderry, Cardiff and several of London's biggest parks. The project was formally launched with a planting ceremony at The Regent's Park attended by HRH The Duke of Gloucester, the Japanese Ambassador Yasumasa Nagamine, Joint Chairman of the Sakura Cherry Tree Project Keisaku Sandy Sano and local schoolchildren.
The Duke of Gloucester is patron of the Japan Society which aims to improve understanding of the cultures, societies and businesses of Japan and the UK.

The Duke of Gloucester said: "What better way to commemorate the long standing friendship between the people of the United Kingdom and Japan, than the planting of Japanese cherry trees that will live on for future generations to enjoy. I would like to congratulate all of those involved to make possible such a worthwhile project."
Yasumasa Nagamine, Japanese Ambassador to the UK, said: "We hope that people all over Britain will join with us in embracing this chance to deepen mutual understanding, thus helping to create an enduring legacy. Yet the Sakura Cherry Tree Project will not just represent the lasting impact of the Japan-UK Season of Culture but will be a wider celebration of the cordial ties between Japan and the UK. Just like our relationship, these trees will grow stronger as they mature and, each year when they blossom, I hope they bring joy to people across the UK and remind them of the deep friendship between our two nations and peoples."
Keisaku Sandy Sano, Founder and Joint Chairman of the Sakura Cherry Tree Project Team, said: "The response we have had from all across the UK, from Guernsey in the south to the Orkneys in the north, from parks and schools across the UK has been amazing. It is testament to the strong relationship between the two countries, and we hope the trees will be a lasting tribute to that."
Find out more about the Sakura Cherry Tree project on the website here.