Activities and Events
Japan Related Events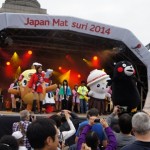 Recent years have seen strong public relations activity overseas by Japanese local governments, spurred on by two events, Rugby World Cup 2019 and the Tokyo 2020 Olympic and Paralympic Games.  While the RWC 2019 is nationwide and the Olympics is largely focused on Tokyo, both events are seen as a great opportunity to sell Japan to the world and attract visitors into areas away from the traditional Tokyo–Kyoto so-called 'golden route'.
JLGC is increasingly involved in a range of regional PR and every year has a stall at the Japan Matsuri in Trafalgar Square and twice a year at the HYPER JAPAN event in various London locations, as well as JapanTag in Dusseldorf, being home to 11,000 Japanese nationals, the largest Japanese ex-pat community in mainland Europe (36,000 in London).  London's very own and much-loved festival of Japanese culture – Japan Matsuri – takes place every year in September. This year in its 10th year and a regular fixture in the London calendar, this energetic annual event brings people together to enjoy an amazing day of Japanese food, music, dance and much more.
With two stages, there is plenty to see all day with an exciting main stage programme and amazing displays of martial arts on the second stage, with taiko drumming and performances from artists on the main stage as well as a chance to sing to the crowds in the ever popular Nodojiman karaoke singing contest.
JLGC put out its stall every year, promoting Japan's regions, and giving local authority staff from the prefectures and municipalities a chance to talk to the British public about the charms of their areas, as well as gain insight into what visitors to Japan are most interested in, as well as useful info on what it is that tourist need visiting a country which is renowned for having a difficult language and a very different culture.
Japan's local authorities are also more than ever active at a range of events in the UK, including the annual World Travel Market in London, the leading global event for the travel industry.