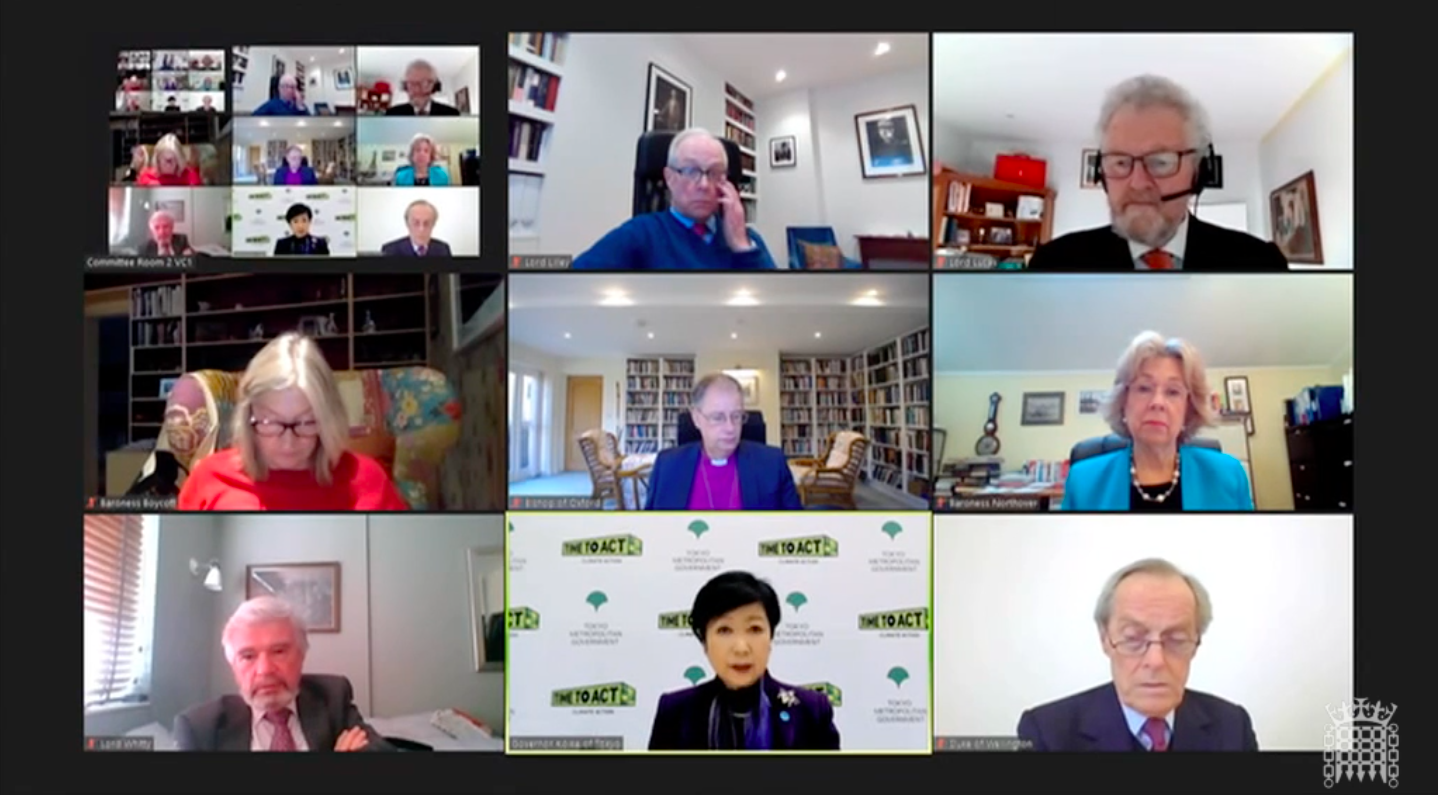 At a hearing of the UK Parliament House of Lords Environment and Climate Change Committee, Governor Yuriko Koike participated online from Tokyo in a discussion on behavioural change. She explained the measures taken by the city of Tokyo to address environmental issues and climate change, such as 'Team Mottainai', an initiative to encourage behavioural change in personal consumption, to reduce food waste and energy use. She also spoke about the important role of local government. 
Tokyo Metropolitan Government encourages citizens to change their behaviours so that individual activities have a significant impact on environmental issues. 
One simple example of attempts to support behavioural change has seen a campaign launched, as a starting point to persuade companies and employees to think about issues around consumption. In August 2018, TMG created 'Team Mottainai' in partnership with businesses, NGOs and other organisations. 
The Japanese word "mottainai" expresses a sense that something is too precious to waste and also expresses respect for the Earth's resources.  The campaign aims, through activities in three areas, to raise awareness in individual consumers of "MOTTAINAI" values to change their attitude to consumption.  Mottainai activities are focused on the following three areas: saving food, materials, and energy. 
One simple example of tackling such behaviours is the promotion of the so-called "30 • 10 Exercise" at events with catering such as official functions and parties to avoid food waste, which is a significant contributor to greenhouse gases.  Starting with food consumption, the campaign seeks to encourage people to also think about energy and other resources. 
The 30 • 10 Exercise encourages people to enjoy foods and dishes for 30 minutes, not leaving their own seats, and 10 minutes before the party closing time, to return to their own seats in order to enjoy catering again and finish everything. This aims at reducing food waste. 
Promotion of reusable tableware and reusable cups when holding events and similar parties also encourages company staff and their family members to use non-plastic reusable bags for which consumers will now see the popular slogan "my-bag" and "my-hashi (chopsticks)" in shops and restaurants. 
To date, 227 organisations and 848 individuals have been recognised as official Team Mottainai partners within Tokyo, since the launch of the campaign. 
The proceedings can be seen on the House of Lords website with details of Team Mottainai and other schemes: 
https://parliamentlive.tv/event/index/d5f58313-abca-4232-b806-fef199c91305