In August 2017, when former Prime Minister May visited Japan, she and her Japanese counterpart PM Abe signed The Japan-UK Joint Declaration on Prosperity Cooperation. In the declaration, the two countries pledged to collaborate on culture and creative industries in order to celebrate the Japan-UK Season of Culture, designated as the time period between the Rugby World Cup 2019 and the 2020 Tokyo Olympic Games. The declaration also included a more concrete project in the form of a proposal from the Japanese private sector to donate cherry blossom trees to the UK, as a symbol of friendship between the two countries.
A team composed of members from the Japan-British Society on the Japanese side and the Japan Association of the UK on the British side was created in order to carry out the "Sakura Cherry Tree Project". While the Japanese side of the team raised funds in Japan, the British side was in charge of selecting planting grounds and procuring the trees.
As a result, it was announced last October that from autumn 2019 to autumn 2021, 6,500 cherry trees would be planted in more than 500 parks and schools in the UK. Over 65.6 million yen (approximately £460,000) from 34 private companies and a private donor have already been raised in Japan.
Other examples of Japan donating cherry trees to a foreign country include the trees planted along the Potomac River, in Washington D.C. In Great Britain too, Japan's "Cherry tree diplomacy" is expected to further strengthen the relationship between the two countries.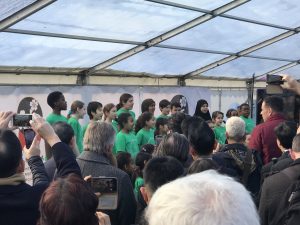 On the 27th November 2019, the first sapling of the project was planted during a ceremony at The Regent's Park in London. Prince Richard, Duke of Gloucester, Yasumasa Nagamine, Japanese Ambassador to the UK and Keisaku Sano, Chairman of the Japan Association in the UK, attended the event, along with a crowd of over a hundred people which included members of the British government and Parliament, as well as people involved in UK-Japan relations. Five trees of the "Prunus Taihaku" variety, also known as "Great White Cherry tree", along with thirty "Yoshino" cherry trees were planted along Regent's Canal. During the ceremony, pupils from a primary school which will be receiving cherry trees sang in chorus the traditional Japanese folk song "Sakura Sakura" in a display of gratitude.
After enduring the harsh winter, the new cherry trees will certainly be a sight to behold in April when the beautiful flowers bloom.
More details can be seen here on the Sakura Cherry Tree Project website (link), including the planting locations around the UK.