Osaka Prefecture is working with British company Intralink to help promote its "Global Financial City OSAKA" Initiative.  
Famed for its modern architecture, vibrant nightlife, and hearty street food, Osaka is the largest city in western Japan. A familiar name on the Japanese tourist circuit, located in close proximity to Kyoto, Kobe, and Nara – which are home to several World Heritage sites – Osaka is also one of Japan's most important business hubs, with the region birthing some of the biggest companies in all of Japan – including Panasonic, Suntory, Itochu, Sharp, Takeda, and many more.
On 24th February 2022, Intralink co-hosted a webinar entitled "Introducing Osaka: the burgeoning Asian financial hub" with the Osaka Prefectural and City Governments. The event was a great success, with a strong turnout and a thought-provoking Q&A.  
A summary of the webinar is available to view HERE, or by clicking on the video image below: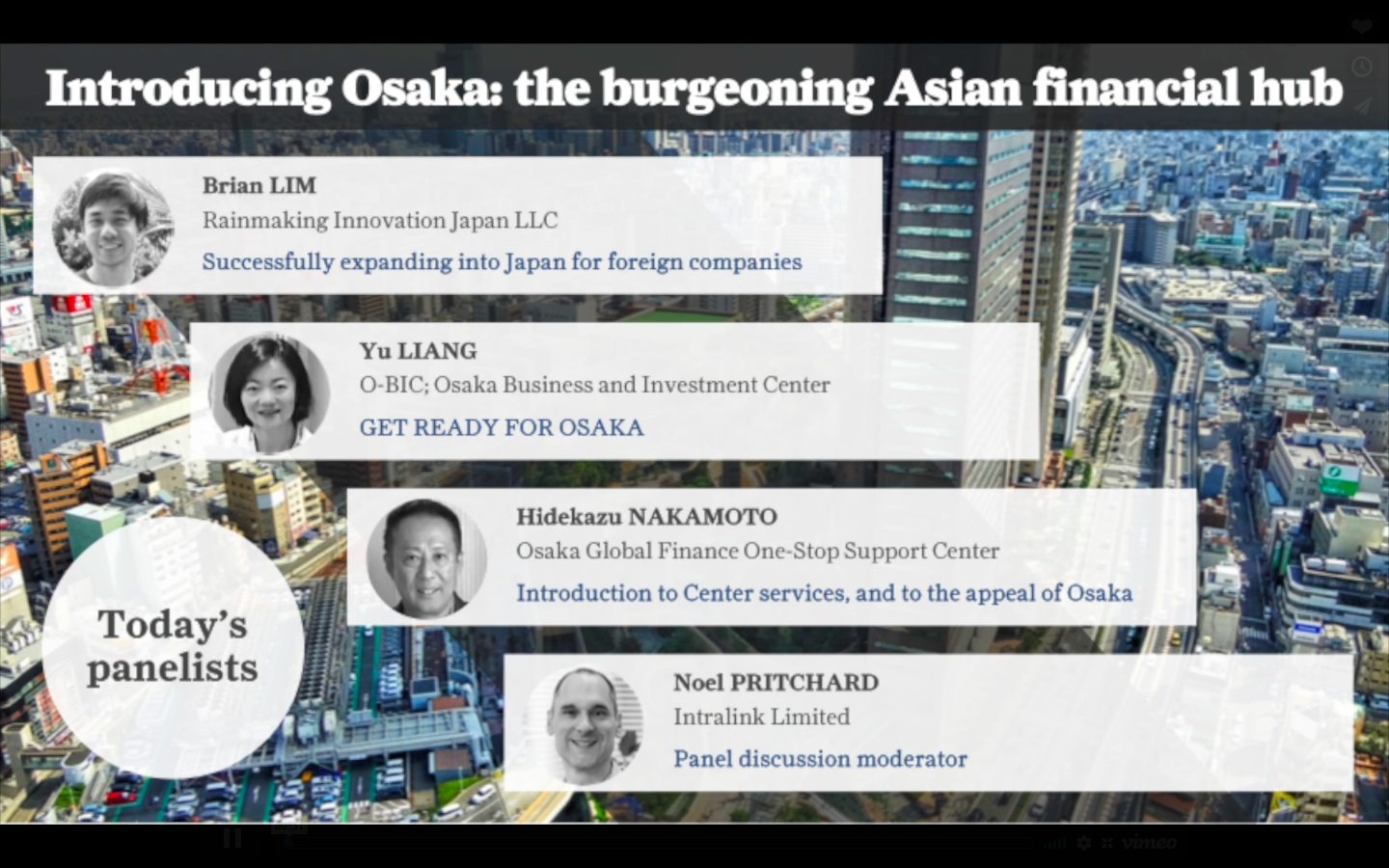 Each of the panellists provided informative insights into why Osaka could be the ideal location for your Asia expansion, the challenges foreign companies might encounter in Japan, and the range of support initiatives available in Osaka to assist with these. 
Panellists included:  
Brian Lim – on the appeal of Osaka, and how Rainmaking PLC has engaged with several foreign startups to help them run trial PoC projects in the city 

 

Yu Liang – on how foreign interest in the region has grown, and how the Osaka Business and Investment Center has helped to provide support with this 

 

Hidekazu Nakamoto – on how the newly-created Osaka Global Finance One-Stop Support Center offers a wide range of support for foreign financial companies interested in the region  



Businesses interested in doing business in Osaka, or local government staff working on supporting local businesses' international expansion can get in touch with the Osaka Global Finance One-Stop Support Center at f-onestop@global-financial-city-osaka.jp