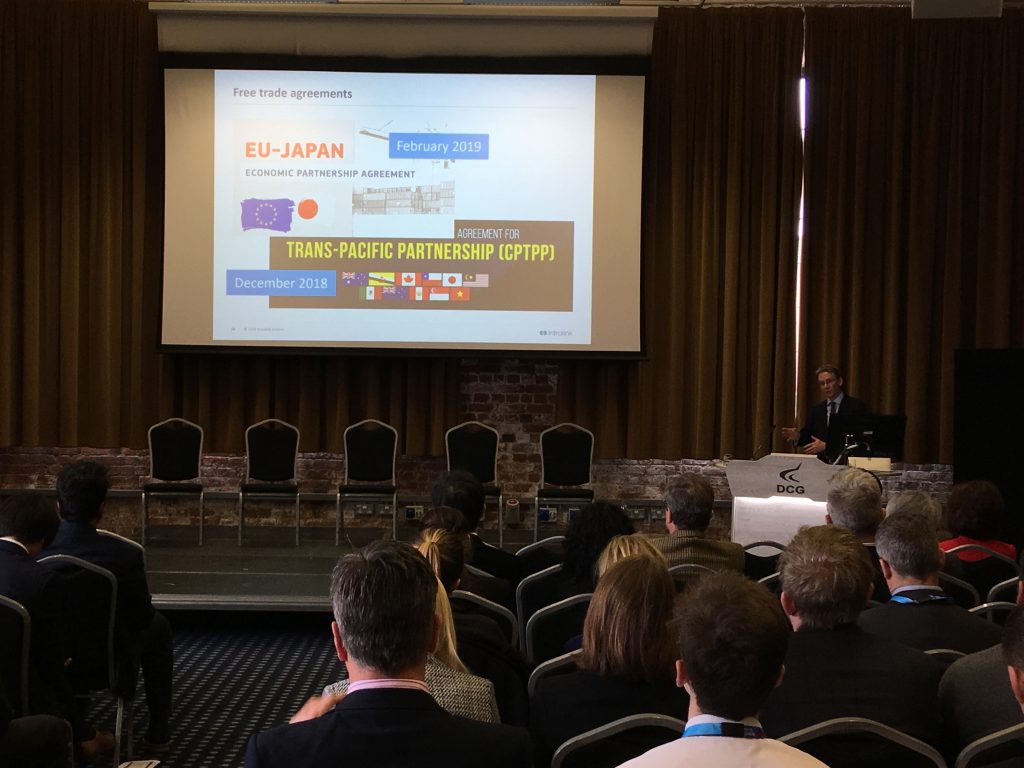 Building on the Derbyshire – Toyota City twinning events at the end of last year, JLGC organised an event in 2019 with local stakeholders which would promote the link and the value of international twinning to local communities.
On Friday 1 February, over 100 delegates from London-based Japanese businesses, as well as Derbyshire companies and local authorities, filled the Roundhouse venue at Derby College. Aimed at those interested in going into the Japanese market and Japanese inward investment trends into the UK, the seminar, organised by the Japan Local Government Centre (JLGC) and Marketing Derby, focused on the opportunities available for businesses through international municipal twinning-links.
Judith Lamie, Pro Vice-Chancellor, External Affairs at the University of Derby, opened the event, with Greg Sutch, CEO of Intralink, keynote speaker. There was also a greeting from Toyota City Government, Koichiro Kuno and Mr. Yoshiyuki Kurono, Director General, Japan Local Government Centre London.
The afternoon saw two lively panel discussions and Q&As with panellists from Bondholder Toyota Manufacturing UK, Bombardier Trains, Derbyshire County Council, South Derbyshire District Council, East Midlands Chamber and University of Derby, separated by plenary speaker Mr Hiroyuki, Iwamura of Ashurst LLP.
Keith Kelly, coordinating the event and Relationship and Communications Manager at JLGC, said: "It was a pleasure working with John Forkin and Marketing Derby colleagues on putting the event together, we really felt that partnering with an organisation that understands the importance of international exchange at the municipal level was key to the success of the event.   Locally there seems to be a real appetite to build on the Toyota City – Derbyshire twinning link for more business and economic links and to better understand how successful relationships with Japan work.  I hope we can work on this together again."
John Forkin, Managing Director at Marketing Derby, said: "This was an important seminar, building on the excellent Toyota City links to broaden and deepen the economic relationship with Japan"
Details of the event can be found on Twitter searching #jlgc19, and the event livestream recording can be seen HERE [LINK] and HERE [LINK].
Additional text by kind permission of Marketing Derby.