The 'London Seminar for Fukushima Revitalisation' was held at the Official Residence of the Ambassador of Japan in London on Friday September 5, co-hosted by the Embassy of Japan in the UK, Fukushima Prefectural Government, and Japan Local Government Centre (JLGC), London.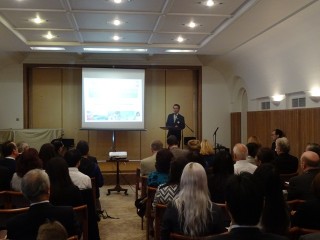 The Ambassador of Japan to the UK HE Mr. Keiichi Hayashi opened the seminar at his residence in Kensington Gardens. There then followed a series of talks by the invited speakers, and information was provided about the revitalization efforts in Fukushima observed three years after the Great East Japan Earthquake, including the clustering of new industries to build a new Fukushima. Information was also provided about the many unique attractions of Fukushima, with the additional aim that the UK could learn more about the Japanese response that was observed after the disaster.
The objective of the event was for the general UK public to understand more about the efforts for environmental recovery and securing food safety in Fukushima, as well as the many attractions of the prefecture including nature and culture.
Speakers at the event included Sir David Warren KCMG, former ambassador to Japan and current Chairman of the Japan Society of the UK, who spoke about his visits to the region while there in the aftermath of the earthquake and tsunami, who saw firsthand the efforts of the local authorities to deal with the situation.
Fumio Murata, Vice-Governor of Fukushima Prefecture gave a presentation on the current situation and the efforts the prefecture have gone to in ensuring safety as well as developments to ensure future high standards in food cultivation and against the contamination of goods harvested and produced within the area.
Anne Kaneko, UK citizen and recently long-term resident and company director in Koriyama, Fukushima Prefecture, gave a personal view on her experience living in the community, and as an employer in the area, having married and brought her children up in the town. Anne also kept a blog cataloguing the daily issues and challenges of living with the disaster, over a period stretching from the immediate aftermath up until very recently.
The event was moderated by Heidi Potter, Chief Executive of the Japan Society of the UK and followed by a reception where saké from Fukushima Prefecture was served. Our thanks go to the speakers and all those who attended the event on the day.