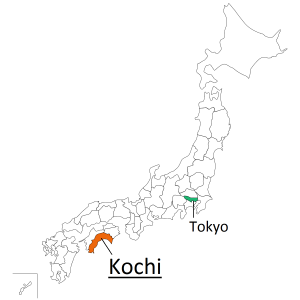 There is a growing international awareness of the famous 88 temple pilgrimage trail on the island of Shikoku. The long walk of self-reflection also offers the opportunity to explore different facets of Japanese culture, in particular Japan's sense of refined hospitality.  Many tourists from European countries such as the UK and Germany now come to visit.
In recent years, Kochi Prefecture has had a variety of initiatives to develop its appeal as a tourist destination. It has set an ambitious target of welcoming four million tourists both national and international in 2015. The 'Ryoma Passport' initiative was a huge success and encouraged tourists who already knew Kochi to return to discover other sites scattered throughout the prefecture. The name chosen for the initiative is a tribute to the great historical figure Sakamoto Ryoma, born in Kochi in 1835, a Samurai warrior who was one of the key players in the Meiji Restoration, the beginning of Japan's modern period.
The 'RYOMA PASSPORT' Project
The 'Ryoma Passport' was introduced by Kochi Prefectural Government as part of a campaign known as 'Holidays with Ryoma' between April 2012 and March 2014, with a simple principle: to promote visits to various tourist sites through presenting the passport in order to receive a stamp and various benefits. Used by nearly 70,000 people, the passport was redesigned as a handbook when, from April 2014, the tourism campaign continued with a new strategy, accompanied the introduction of a new second edition Ryoma Passport. Stamp rallies and stamp collection are a popular tradition in Japan; on pilgrimages walkers collect various talismans from different temples, and climbers of Mount Fuji collect different stamps branded with hot irons onto their walking sticks as they ascend the mountain.
On March 31 2015, Kochi residents made up 22.1% of users of the new passport and 77.9% were those living outside the prefecture.  On June 17 2015, the Passport had a total of 100,000 users.
Contrary to expectations, the Ryoma Passport is not distributed free of charge, an application form for the basic passport is filled out and stamps are then collected. This requires showing purchased entry tickets or proof of purchase at partner establishments of the project. Passports have attracted the public because they incorporate a playful dimension that goes beyond the collection of stamp marks: the system includes different rules for accrued benefits or 'instant' benefits, and could be described as a game like a treasure hunt.  Other local authorities have started to adopt similar models. The goal of Kochi Prefecture is to obtain significant economic benefits by focusing on loyal tourists and encouraging them to travel to all sorts of places, and the results were conclusive.
'RYOMA PASSPORT' details
With offers related to tourism in the prefecture available in almost all sites and establishments, the initiative brings together more than 500 tourism partners, namely restaurants offering regional cuisine, spas and rest areas with shops, transportation companies, event organisers, workshops and events venues. Almost all 'tourism stakeholders' in Kochi Prefecture have joined the project.
Each partner institute has distinctive stamps with different sizes and patterns. Each stamp is thus attached to a particular memory. When the number of stamps needed is reached, the user may obtain a 'next level Passport'. When getting the new passport, the old passport is returned to the user to retain the stamps it contains as a souvenir and it is popular with different generations.
The original plan had three grades, although there are now five, with each grade distinguished by a different coloured cover: blue, red, bronze, silver or gold. The principle of collecting stamps and passports is based on rules. Users must fulfill certain requirements to receive a stamp and to move to a higher grade. For example : to move from a bronze to a silver passport a user must collect 48 stamps, by participating in a workshop and have stayed seven nights in a inn or hotel. Users are rewarded by passing to a higher grade and further participation in events in the area, entitling the user to enter into lotteries or receive free gifts. The benefits from the various institutions get better with the higher grade passports.
Appraisal
There are many loyal users who continue to use the passport system. The Passport project expected 10,000 users over two years but this number was reached in less than five months. The number of users has increased steadily to reach 70,000 after two years. Among them, nearly 80% live outside the prefecture. The Ryoma Passport has become an effective incentive for repeat visitors: 25% of the holders of the basic passport have completed the requirements to pass to the next grade. To keep users interested, updates are sent by direct message through Twitter to subscribers. As the Passport must be completed with stamps of different institutions this encourages users to venture across the region so that tourism benefits the entire prefecture. Analysis of the stamps collected shows the users collect stamps in most places on a grade one or two Passport.
For more details on the scheme and for general information on destinations in Kochi, please see the Prefecture Website (in English)
Text and pictures © Kochi Prefecture