Date: 12th March 2020, 13:30-17:30
Venue: London's Living Room at City Hall, The Queen's Walk, London SE1 2AA
Summary
The Japan Local Government Centre holds a seminar each year to showcase initiatives and issues in the field of local authorities in Japan and in the UK and to deepen bilateral understanding. This year we held our seminar in cooperation with the London Borough of Southwark on the theme of social care for elderly people with a particular focus on dementia and support.  As the UK also faces the challenge of an ageing society with a population over the age of 65 exceeding 18%, there appears to be increasing interest in issues such as the shortage of government services in the field, how to offer high-quality of care and public-private sector coordination. These were some of the topics discussed during this seminar which focused on the current state of social care for the elderly, including nursing care services, from the perspective of experts from Japan and the UK.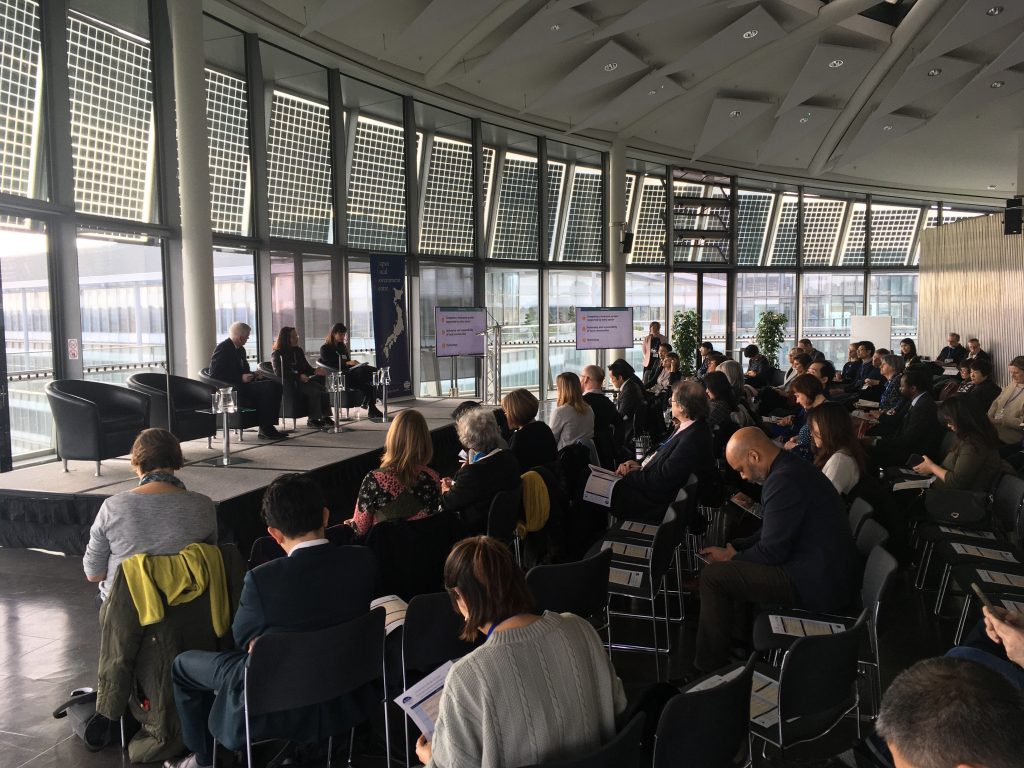 First session: Policy & Framework
Opening remarks by the chair, David Quirke-Thornton, Strategic Director for Children and Adults at the London Borough of Southwark.
Greeting speech by Yoshiyuki Kurono, Director of the Japan Local Government Centre.
1. Speaker: Tetsuya Kishimoto, First Secretary at the Embassy of Japan in the UK
Presentation theme: Long-Term Care in Japan – Creating communities –
· Presentation of Japan's current ageing society in comparison with the UK, including ageing rate and regional differences in the ageing population. The percentage of the population aged 65 and over is 28% in Japan and 18% in the UK.
· The number of elderly people suffering from dementia increases every year. It is expected that by 2025 20% of the elderly will have dementia.
· Description of Japan's long-term care insurance system and its funding, which was introduced to support the ageing society. However, due to the expected growth of the proportion of elderly people, there are also issues with the long-term care insurance system, such as the potential increase of insurance premiums.
· The Community-based Integrated Care System was created which ensures the provision of health care, nursing care, prevention, housing and livelihood support in a comprehensive manner. This aims to enable elderly people with dementia to live out the rest of their lives according to their own choices in a familiar environment.
· While it is necessary to improve the social care system, prevention also plays a central role. It is important to encourage elderly people to participate in their local communities so they may take part in preventive activities such as physical exercise and cultural activities.
· In an effort to alleviate the tasks of care workers, care robots and technology have been developed which can, for example, assist with mobility or monitoring. Although such assistive devices are still in the implementation phase and it is hard to say how common their use might be in the future, the Japanese government is working to popularise care robots, including by offering financial support for research in the field.
2. Panel discussion
David Quirke-Thornton, Strategic Director for Children and Adults, London Borough of Southwark
Noriko Cable, Senior Research Fellow, University College London
Nina Hemmings, Researcher in Health Policy, Nuffield Trust
Based on Tetsuya Kishimoto's presentation, the panellists discussed the current state of ageing societies in Japan and in the UK as well as measures against dementia using their expertise in the field. The following is a summary of the points made by each panellist.
Noriko Cable:
Social participation is a key protective factor. Dementia prevention can also start earlier on with education, as for example hypertension and obesity are risk factors for dementia.
While the number of people who need long-term care continues to increase, the proportion of elderly people is also rapidly growing and so is the importance of the support provided by local communities. In addition to actively utilising volunteers, it is necessary to create integrated communities where everyone can be actively involved, including people with dementia and those with disabilities.
Nina Hemmings:
A topic which is could be of particular interest to the UK is Japan's ability to implement a practical and radical reform while bringing the public along with them to ensure the changes are sustainable in the long run. Additionally, the ability of the Japanese central government to flex how much is paid to providers also makes it more sustainable. It would be useful to promote research on the positive results of prevention, as this could be used to support the implementation of more preventive policies.
It is also admirable how Japan has defined the role of care managers who act as a consistent resource for families and navigate them through a difficult period in their lives. However, workforce shortage is going to continue being a challenge for many countries and for many years to come and finding people who have the right values, training and skills to look after our loved ones will be critical.
David Quirke-Thornton:
Through the Japan Study Tour, a project supported by JLGC each year, I visited Japan and learned about their social care system for the elderly. I am often asked how much of the Japanese system is cultural and how much was transferable to the UK. I believe most of the model is transferable and I found during that trip that we are very alike in our aspirations.
It is interesting how in the UK we stop paying for national insurance after a certain age, whereas in Japan people over the age of 40 have to start paying premiums for the long-term care insurance system. I have spent 25 years in the field of social work in the UK and I had never seen such a high quality of care as in Japan. The compassion, dignity and respect were inspirational. There is a lesson to be learnt from Japan about being politically courageous when it comes to implementing a new social care system. Politicians in the UK know what to do, but not how to be elected after they do it, so perhaps we need to think about how we can help them land us in a place closer to Japan.
Second session: Practitioners and skills
1. Speaker: Clare Jones, Senior Occupational Therapist at Tees, Esk and Wear Valleys NHS Trust.
Presentation theme: Living well with dementia
· A third of people over 85 years old have dementia, but dementia does not mean death: after a diagnosis, life expectancy can range from 4 to 10 years. Dementia causes people to lose short term memory but not emotional memory.
· The emotions felt by people with dementia can be classified into two "zones": a red one with many negative emotions such as anger, fear and anxiety and a green one where people feel happy, calm and engage in activities. When caring for someone with dementia it is essential to keep them in the green zone.
· There are four pillars that may guide us in having a better approach to people with dementia. The first one is mindfulness. For example, visiting cards with a photo on them allow patients to remember who the person is. Clare Jones' NHS centre also offers free retreat and mindfulness courses for carers.
· The second pillar is to slow down. It takes an 85-year-old 60 seconds longer to process the same information as a 25-year-old, in the case of healthy ageing. It is possible to make the most of activities such as music or poetry, which are controlled by areas of the brain less affected by dementia.
· The third pillar is to adapt to a person's changing needs and to focus on the cognitive functions they still have, rather than those they have lost. This allows for carers to better understand the needs of the person and to have a more positive approach to care.
· The final pillar is integrating services & the community effectively. For example, in the context of its lifelong engagement community project, Shizuoka City in Japan has created integrated buildings which have senior living facilities, community hubs and businesses on different floors. This provides an environment in which elderly residents can live stimulating, healthy lives.
2. Panel discussion
Toko Chihara, Senior Mental Health Nurse at Tees, Esk and Wear Valleys NHS Trust
Rebecca Jarvis, Interim Director of Operations, Health Innovation Network
Brian Beach, Senior Research Fellow, International Longevity Centre UK
Following Clare Jones's presentation, each panellist shared their thoughts on the topic based on their experience and knowledge.
Toko Chihara:
When moving to a new country it can be difficult at first to speak the language which may make it harder to connect with other people. Likewise, people with dementia can also feel a "communication barrier" which can lead to irritable behaviour. At my workplace, we use a care robot that looks like a seal pup called "Paro". It is said to have the same effect as animal therapy and even patients who have difficulty communicating, immediately begin to laugh when using Paro. A therapy robot animal such as Paro the seal pup can be very useful as it speaks a universal language, which may be why this method seems to be gaining traction not only in Japan but also in Europe.
Rebecca Jarvis:
Last year, I had the opportunity to go to Japan to study care facilities in Japan for elderly people, and I was very impressed by their level of integration in communities. For instance in Chiba, once facility offered private accommodation for elderly people along with a restaurant on the front of the building where people with dementia worked.
In order to nudge the social participation and informal mingling of elderly people, another approach is to use a system of volunteers at bus stops and aboard buses who facilitate chitchat and tell elderly people about the activities available in their community.
Brian Beach:
I agree that the four pillars mentioned by Clare are essential in the approach to people with dementia. In 2017, I went to Japan to research its delivery of social care. The outpatient daycare service provided by Machida in Tokyo offers a variety of activities depending on the day and allows people with dementia to choose the activities they want to participate in. The day I visited, we went to a Honda car dealership to wash cars. At the end of the day, facilitators asked participants about the day's activities in order to stimulate their memory. Interestingly, the cars didn't really need washing. Instead, the point of this activity was to engage with the community, create ties and give participants a sense of purpose.