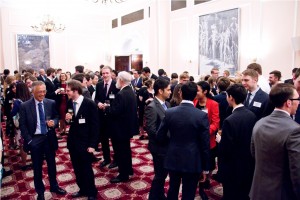 Wanting to work in Japan related employment? Just returned from JET, or been back a while but looking for a career change?
Japan Local Government Centre (CLAIR London) will hold a 'Employing JETs' Seminar, which is an opportunity for former JETs looking to work in Japan related employment in the UK. The event will be on 9th December at Swedenborg Hall, 20-21 Bloomsbury Way, London, WC1A 2TH, Closest Underground: Holborn.
The 30 years anniversary of the JET Programme will be celebrated in 2016, and with an increasing focus on post JET links in business and citizens diplomacy this event will explain how JETs use their experience for work, with contributors from companies who employ people who have been on the JET Programme, as well as former JETs employed by them. This is also an excellent opportunity for JETs to network with representatives of Japanese business in the UK. Companies confirmed attending so far include: Marubeni, Mitsui, Shinsei International, Japan England Insurers, Chubu Electric Power, Nomura International and others.
If you wish to attend this free event, please apply by email to mailbox@jlgc.org.uk with your name, title, current role and where and when you were on JET by Friday 27th November. Spaces are limited and will be on a first come first served basis.
Date: 9th December 2015
Time: 18:00 to 20:00 pm
Venue: Swedenborg Hall, 20-21 Bloomsbury Way, London, WC1A 2TH
(Closest Underground: Holborn)