Activities and Events
JAPAN STUDY TOUR 2020 TSU CITY & TOKYO 19-25 January

APPLICATIONS NOW CLOSED
JLGC London each year invites senior executives in local government and staff working in the public sector within the jurisdiction of the countries covered by our office (the UK, Republic of Ireland and other countries within Northern Europe) to Japan for a week-long tour and series of seminars and workshops: to exchange best practice, opinions and information on the current state and issues of local autonomy, and to deepen understanding of each other's local autonomy systems.
This year's theme is  'Japanese Municipalities Investing in the Future' and will give a general overview of local government in Japan, as well as an opportunity to look at the division of roles between different levels of local authorities and the services they deliver.
JLGC's annual Japan Study Tour will next be hosted by Tsu City, Mie Prefecture in 2020 after an orientation into local government at JLGC's head office CLAIR Tokyo in the capital and site visits to various facilities run by Tokyo Metropolitan Government (tbc), the city government for one of the world's largest metropolises.
The Tsu City segment of the tour will help participants learn how Japanese cities of varying scale improve local services through a devolved local government system. Participants will see a wide spectrum of best practice and investment strategies regarding business, the environment and society.
JLGC invites applicants from senior level staff of UK/Northern European local governments to join this seven-day tour to see how Japan tackles challenges for the future.
The Tour schedule below is tentative – follow @jlgclondon on Twitter for updates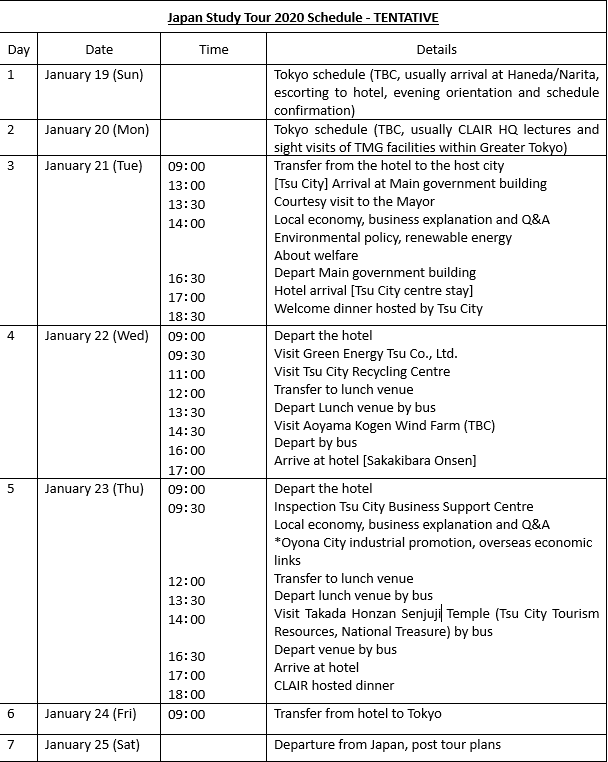 Typical JST Seminar Outline (Sample)
Example detailed itinerary arranged by host authority from the 2014 tour
What costs are covered?
CLAIR covers:
Expenses incurred during the Seminar period in Japan including:
– Transportation within Japan
– Accommodation
– Meals
– Seminar materials
– Admissions
– Overseas travel insurance
Participants cover:
– Round trip airfare to Japan
– Any expenses incurred prior to arrival in Japan and after departing from Japan
– Personal expenses incurred in Japan (e.g. shopping, phone calls, food/drinks from hotel mini-bars, expenses incurred in free time)
Other important information
Applicants must be able to commit to the full itinerary. Arrangements are through a group booking with a travel agent and cannot be changed once confirmed. Applicants making additional arrangements for a stay in Japan must schedule them before and after the planned schedule – all tour elements must be taken part in including all transfers and group visits. JLGC reserves the right to withdraw the offer of a place on the tour where any participant is unable to commit to the full schedule.
The Japan Study Tour is an annual programme which aims to promote mutual understanding between Japan and European local authorities. JLGC invites applicants from senior level staff of UK/Northern European local government to join this seven-day tour to look at the current situation and issues related to Japan's cities and regions.
For more information, please call 020 7839 8500 and ask for Keith Kelly, or to request the application form and guidance document send an email, marked "JST 2020 Tsu" to mailbox@jlgc.org.uk.
Previous Japan Study Tours
2017 Theme: Urban Renewal Five Years After the Tohoku Earthquake
Key Themes
Housing policy in Iwaki City post earthquake and tsunami
Plans for high ground transfer for residents from the tsunami disaster area
Policies for housing evacuees from the nuclear exclusion zone
Initiatives for regenerating local industry and tourism post disaster
Initiatives for renewable energy; offshore wind energy generation and others
Disaster prevention initiatives in the affected area (including radiation contamination)
As a result of the massive Tohoku earthquake in east Japan of March 2011, around 400 people in Iwaki City lost their lives, with significant damage to around 91,000 buildings.
Immediately after the earthquake the issues that arose included more than 20,000 evacuees being relocated from the nuclear evacuation area and a need to provide specific support required by the evacuees, as well as existing city residents who were also hit by the tsunami damage.  This included managing and ensuring the provision of public housing and emergency accommodation for those whose houses had been badly affected by the disaster, dealing with significant damage to the coast and built up area of the city, redevelopment of residential land in conjunction with green spaces used for disaster prevention as well as the maintenance of roads.  Further to this reputation damage from the nuclear incident had a major impact on the agricultural and tourism industries of Iwaki City.
Over five years have passed since the disaster, improvements continue on the basic infrastructure and presently the city is looking to the future, now in a period of transition from the fundamental reconstruction achieved to the current rebirth of the city.
Using local resources in and around Iwaki City, with over 2,000 annual hours of sunlight per year as well as 70% of the city area being made up of wooded land, biomass and other renewable energy related industries are being supported by the municipality.  Nuclear decommissioning related research, including the use of robots, continues to be developed looking at the medium to long term, and more than ever efforts aim for resurgence in the local economy.  A testing system ensuring safety and transparency of local agricultural products has been established to inform residents and make test results public with the aim of correcting harmful rumours over to the issue of radiation, and in an effort to promote inbound tourism in conjunction with the upcoming Tokyo 2020 Olympic and Paralympics, the city is taking advantage of the advent of the Games by promoting sports and culture in the area.
The local authority also invited participants from all countries to enjoy the charms of the area as well as the local cuisine and flavours of Iwaki City produce during their stay, with the opportunity to experience first hand the work of a municipality overcoming an unprecedented natural disaster and to see how the city continues to develop strongly as a forward looking local government prepared for future such events.