The JET (Japan Exchange and Teaching) was established in 1987 with the purpose of increasing mutual understanding between the people of Japan and the people of other nations. It aims to promote internationalisation in Japan's local communities by helping to improve foreign language education and developing international exchange at a community level.
JET participants are selected from 38 countries to fill the post of ALT (Assistant Language Teacher), SEA (Sports Exchange Advisor) or CIR (Coordinators for International Relations). The ALT and SEA posts are usually based in local schools; the ALTs provide language instruction (predominantly English) in schools; the SEAs promote international exchange through sport whilst the CIRs are based in town or city halls and work in the community on international exchange activities.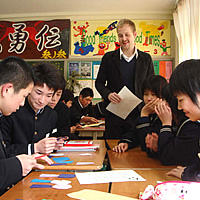 The recruitment of the JET Participants is conducted by the Japanese Embassies and Consulates in each respective country, and each potential applicant (after screening) is interviewed. Once the successful candidates have been announced, a series of seminars is organised to induct the applicants into what is required of them whilst they work in Japan, and ex-participants are invited to give advice based on their experiences. Each contract is valid for one year, although the opportunity to extend may be available. All JET applicants must be graduates, and if they have dual Japanese citizenship, this must be renounced before they can complete the application process. Japanese language skills are not required unless the applicant wishes to apply for a post as a CIR, but participants are given some text books and the local authorities may hold Japanese language classes once the participants arrive in Japan.
Once in Japan, the affiliates meet their host local authorities and are given training in preparation for filling their posts. As a programme for foreigners wishing to work in Japan, it is by far the most comfortable in terms of living, working and benefits when compared with employees who go to Japan and find work in the private sector.
A number of associations exist to help the participants to adjust to the requirements of the country, and the AJET (Association for Japan Exchange and Teaching) is administered by current participants who hold bi-annual talks with the sponsors to exchange opinions on how the programme might be improved for the participants; whilst the JET Alumnae Association (JETAA) is made up of ex-JETs who have returned to their own countries.
The Total Number of JETs from Selected Participant Countries Over 3 Years:
| | | | | | | | |
| --- | --- | --- | --- | --- | --- | --- | --- |
| Year | UK | US | Australia | Ireland | France | Germany | Jamaica |
| 2008 | 440 | 2681 | 276 | 78 | 18 | 17 | 46 |
| 2007 | 577 | 2808 | 316 | 95 | 19 | 20 | 41 |
| 2006 | 717 | 2879 | 387 | 114 | 19 | 27 | 40 |
| 2005 | 916 | 2873 | 420 | 121 | 20 | 31 | 48 |

The programme is jointly administered by the Ministry for Internal Affairs and Communications, the Ministry of Foreign Affairs, the Ministry of Education, Culture, Sports, Science and Technology and the Council of Local Authorities for International Relations (CLAIR).
JET Alumni Association:
The JETAA is an independent organisation for former JETs who have completed their tenure in Japan and assist the embassies and JLGC (CLAIR London) in the promotion of the JET Programme in their home countries. The main goal of this organisation is to maintain friendship ties with Japan and communicate with JETAA members. They are financed by JLGC (CLAIR London) and hold regular events for members. In the UK and Ireland, there are 7 local chapters and two national executives (the UK and Ireland respectively) comprising of almost 4000 members.
Once the JETs return from Japan, the JETAA national executive organise a Careers Information Day which is an opportunity to meet with prospective employers and obtain advice about what options are open for them now. By and large, JET participants have gone on to very good jobs with a significant amount based in the Civil Service and the BBC as well and banking and financial houses.
JETAA in the UK:
In the UK, there are almost 3,500 participants in local JETAA chapters, with London the biggest at almost 2,500. Ireland has just 1 chapter with 215 members.
The chapters organise regular meetings where they eat or make Japanese food, have talks on Japanese culture, and watch Japanese films. The Ireland chapter organises a Japanese speech contest every year.

Membership of the different chapters (as of July, 2007):
| | |
| --- | --- |
| Chapter | Membership |
| London | 2491 |
| Midlands | 333 |
| North West | 166 |
| Scotland | 296 |
| Northern Ireland | 65 |
| Wales | 64 |
| Ireland | 215 |
JET Programme Links:
For more information about the JET Programme, click here.